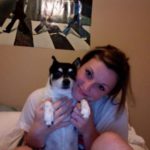 I have always loved pets, no matter the size, color, or fluffiness. I consider my pets to be my best friends and my family, and I have such a passion for their happiness. As a pet sitter, I am able to take care of those vital family members with love while their owners are away I find such fulfillment from helping animals in any way that I can.
Out of all the things that make them wonderful, my favorite aspect of animals is their ability to love, and to love fearlessly. I admire and respect the faithful companions we call friends and I owe lots of my happiness and smiles to those wonderful sparks of light that have come into my life.
I have been blessed with a beautiful Lab/Border Collie Mix named Aukina, she is going on 7 wonderful years and has had such a great influence on my life. My kittens are Kiwi, a Himalayan Persian, and Butters, a domestic short hair. They are both around 6 months and are the entertainment of the household.
I have been around all sorts of animals in my lifetime. My border collie, Tex, was my best friend for almost 17 years. He taught me to have patience with others, and with myself; he encouraged me to take chances and live my imagination and to be brave above all else. He was my best friend for my entire childhood.
I am originally from The Woodlands, Texas. I was born in The Woodlands Hospital at the time, and grew up off of Sawmill Road right off of Sawdust. I attended all of The Woodlands schools and graduated from The Woodlands High School in 2010. Since then I have attended Lone Star Community College and University of Houston. My family includes my wonderful and loving boyfriend, Austin, our kittens Kiwi and Butters, and our gorgeous pup Aukina. We live in a beautiful home tucked away in Chateau Woods and are working on our compost and vegetable garden. We enjoy cooking and baking, playing with our animals, yoga, and taking time to listen to our favorite music and discuss life.