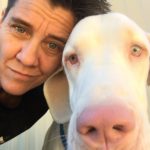 I became a pet sitter because of my love of animals and the need for trustworthy people to take care of them. I am careful about who I have take care of my own animals, because I want them to understand the personality, characteristics, and responsibility that goes with this position. A good pet sitter allows peace of mind for the owners, and the pets never feel like they've been forgotten.
All animals have unconditional loyalty, endless love, lots of goofiness, and more intelligence than we give them credit for. They calm us in stressful times and keep us somewhat levelheaded the rest of the time. They are patient and never question us in our position to take care of them.
I am originally from South Africa and have been in the USA for 8 years now. I spent a year in San Antonio, 5 years in Cypress, TX and 2 years in Starkville, Mississippi. I moved to The Woodlands in the beginning of July and love the trees and maturity of the neighborhoods as opposed to treeless and harsh newer areas.
Growing up, our family sometimes had small dogs, but my dad was not an animal person. In my last year of school, I went against the rules and got a German shepherd pup, who I had for 9 years before health problems took her. Since moving to the US, I rescued a 9-year-old lab/retriever mix who gave me 4 fantastic years. I don't necessarily have a favorite breed, although I tend to gravitate towards the older or 'special needs' animals, hence my DM, deaf Great Dane! Those that tend to be forgotten are the ones that make the top of my list.
We are a family of 3 girls and 3 dogs. Alyssa is 13 and will be going to Knox Junior High. She loves all animals and is particularly attached to the Mini Schnauzer, Ruby. The other dogs are an Aussie mix named Willow, and Cooper, a Great Dane. We all love the outdoor life and try and spend as much time as we can doing fun things before melting in the heat. We love taking the dogs to the dog park and watching them run their energy out and be social. Lindsey and I love watching movies, listening to music, and going on road trips. Cooper is the only male in the house and therefore quite protective of us.
My previous job was as the manager of a dog boarding and grooming company in Mississippi. It has to be the best job I've had, as it was very hands on and I got to spend my days with dogs. It was very fast paced and I was constantly moving around which is when I'm happiest.
In my free time I like to take the dogs to the park, spend time on the Woodlands Trails, exercising when the mood strikes and being Cooper's chew toy. When I'm in 'sloth' mode, I like to watch movies (especially documentaries), draw, lego, read and be Cooper's pillow.