As far back as I can remember there were always animals in my home. As a child I had gerbils, which I helped care for when the mother had pups. I also had a Pekingese and a pug. It wasn't until I was older that I learned to appreciate cats. From then on I had a beautiful enormous male Maine Coon and now a lazy but loving female black and white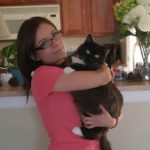 Norwegian Forest cat! A few years back I was known as the cat caretaker! My neighbors were always bringing in kittens they found crying in the streets or behind bushes. I still have a video showing the time I took in 7 kitten siblings at one time! From there I would nurse them back to health, bathe them, potty train and send them to a loving feline adoption store just down the road where I knew they would be lovingly cared for. Being able to work with animals allows me to gain knowledge and skills I may not have had, and get to experience the joy and excitement in each furry, four-legged client every day!
My favorite thing about animals is their unconditional love for their human friends. Once an animal gains trust with their surroundings and people, they tend to have a love that can stay with you forever. An animal (pet) can truly bring out laughs, tears, and just all around cherished memories! A true companion!
Currently I have a beautiful furry 8-year-old Norwegian Black Forest Cat. When she isn't playing dress up with my 6-year-old daughter, she can usually be found sunbathing out on our balcony watching and listening at the morning doves sing.
I have always been around animals. If I had to choose a favorite, it would be Chowder, my male Maine Coon cat. He was such a loving kitty, never one to shy away from guests or hiss at anyone. He loved being petted and rubbed by anyone. He always made us laugh when he wanted water. Before taking a sip from his bowl, he would paddle with his front paws as if swimming, then drink away!
I am originally from the Alamo city, in San Antonio. I moved to The Woodlands about 7 months ago and have fallen for the pine trees and fast-paced lifestyle here! It's amazing how close the shops are, but you can travel just a few miles out of town into the country, or hang out on a nearby lake.
We are a small household of females, including me, my 6-year-old daughter Kieran, and our cat, Monkey. We definitely enjoy our down time. I am usually found either reading or cooking up something new. Kieran, who is often known as Kiwi, mostly draws, and is very good at it. And Monkey is sleeping, always sleeping. When we're not busy with the bustle of school work, chores, and running errands, we are relaxing at home; reading and napping.