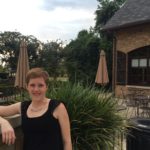 I have always loved animals and wanted a chance to be around them more. I think pets are angels in disguise and I wanted to be able to help take care of them. Animals love you unconditionally just the way you are, with no deception or strings attached. They'll give you hugs and kisses on your bad days and take away the pain and tears. They are so innocent and vulnerable and deserve all of the best love and care we can give.
I have two cats, an orange tabby named Kit Kat and a brown tabby named Batcat or Batman. Kit Kat is currently pregnant so there are some little ones on the way. I also have a leopard gecko named Leo. I just got him and I love holding him every night.
I grew up having animals left and right, we had a zoo at my house and I loved it! I had rabbits, snakes, lizards, turtles, guinea pigs, dogs, cats, horses, frogs, etc. My absolute favorites were the horses. I've always loved riding and barrel racing. They are such majestic creatures and so fun to train and love on.
I was born in Phoenix, Arizona and lived in Iowa and California as a child. Then we settled down here in Magnolia, where I had my horses. At the age of 23 I moved to The Woodlands to start my own life. I like The Woodlands, but would really love to move back to California someday.
My parents are awesome. They live nearby and I get to see them a few times a week as time allows. Right now I room with my cousin and another girl in The Woodlands.
I have worked as a massage therapist, a personal trainer, on a ranch out in Waller caring for and training 19 horses, and in a spa.
I spent most of my childhood in Magnolia as a country girl. I went to a private school called the Lighthouse through high school and was homeschooled the rest of my years. I attended Lonestar College and University of Houston.
I love watching movies, reading books, playing with my fur babies, cleaning my apartment, going to church, doing school, working out, seeing friends and staying busy.