I decided to become a pet sitter because of my love of all animals and caring for them. I also thought, since I just moved to The Woodlands, that this would be a great way for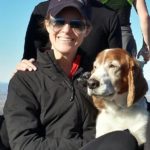 me to familiarize myself with the area.
I love animals because of their unconditional love for us; and I enjoy getting to know their different personalities. From a very young age I wanted a dog, but we were living abroad so we were only able to have turtles and gerbils. Once we moved back to the states, my family and I have always had Welsh Springer Spaniels. I now have a Welsh Springer Spaniel named Teddy, who is 14 years young.
I was born in Singapore and grew up in Tokyo, Japan and just outside of Philadelphia. For college I attended the University of Mary Washington in Fredericksburg, VA and than for my masters I lived in New York City. For the past four years I managed commercial real estate in Phoenix, Arizona. My husband and I moved to The Woodlands this past October by way of Arizona and so far, we are loving it!
Right now our household is my husband Joe, Teddy and I. We are looking forward to starting a family one day! In my free time I love to be outside. On the weekends my husband and I love to go for runs, bike rides, and walks with Teddy. I also enjoy reading a good book, fine art, taking my own photography, experiencing new places and things, and the Pittsburgh Steelers!