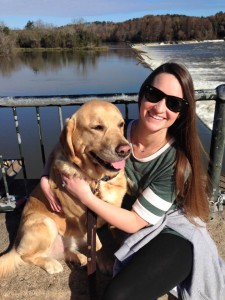 I love spending time with and taking care of animals. I'm coming from a hectic corporate job, so I can identify with clients who may be anxious about leaving their pets at home, and hope to ease some of that concern.
I've always had pets – dogs, cats, and horses. We had a lab named Chevy when I was growing up who was so easygoing that he would let me use him as a pillow! Now I have two dogs: Oliva, a four-year-old lab/whippet mix, and Scout, a seven-month-old German Shepherd.
I was born in Houston, moved to The Woodlands area in 1994, and went to Magnolia High School. Before I became a pet sitter, I was an HR/logistics coordinator for an oil and gas company. I'm engaged to a marine engineer and we enjoy spending time at my parents' lake house and traveling to Panama City to see my fiance's family there.