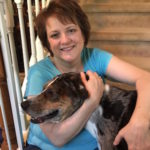 I've always had animals, from multiple dogs and fish, to a turtle and rabbit. My dog, Patch, is my favorite, though. He is so affectionate and loves being with us wherever we go. He has his own special way of talking to you so that you understand what he needs and wants. We rescued him and it's as if he thanks us each and every day for it.
I grew up in The Woodlands and attended McCullough Sr. High. I later attended and graduated from Texas A&M University.
I love sports, movies, and a good book. But, my most favorite thing to do is spending time with my husband, son, our family, and friends.