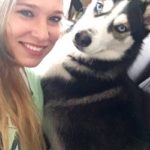 I decided to become a pet sitter because of my love and passion for animals. I grew up with mostly large breed dogs and horses but have experience with all kinds of animals. I am a single mother to my 3-year- old son, Kane.
I have lived and visited all over the country as part of a military family, including some overseas locations, my favorite being Hawaii. I grew up in Tomball, where I went to high school and then later attended college in College Station. My college career was cut short after 3 years when a near death ATV accident occurred in 2011.
I have actively been involved in local pit bull and dog rescues for over 5 years. I am working on finishing up my school and building a career. Previous to pet sitting, I was working in the oil field as a strategic account administrator for all top priority accounts. I love to travel and see the world with my little one.
The loyalty and the unconditional love you receive from a dog or pet is what I love most about my job. After re-visiting the same pets and seeing their face light up in recognition when you come in for a visit is what makes me so grateful to be a pet sitter!
In my free time I am often watching live music somewhere or at a concert. I enjoy traveling to a new place or to familiar places to see friends. I love the outdoors, hunting, fishing, and mudding.