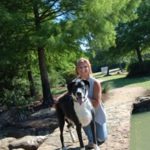 I decided to become a pet sitter because of my true love for animals. I want to pamper other animals as I would expect mine to be pampered.
My family had a Boston terrier when I was growing up. His name was Panda, and he was a great family dog. He used to chase me around the pool as I swam from side to side all day. Before my husband and I got married, we acquired a lab mix and named her Copper. A few months later we brought home a black lab that someone had dumped nearby. We named him 8-Ball. Both of those labs loved to swim and lived to be 15. We now have 3 Great Danes: Castle, Blue Bell, and Shadow. We think we'll be a Dane family forever.
I was born in Houston and raised in Spring. My husband and I have lived in Northampton Estates for about 14 years now. Before I became a pet sitter, I was an ice skating instructor for over 21 years, and coached the 2006 Women's Olympic Alternate. In addition to spending time with my husband and our dogs, I enjoy Crossfit and jet skiing.