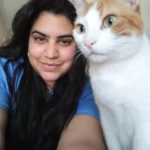 I wanted to be a pet sitter because I love animals and being around them. I used to be a pet sitter in Barcelona so it's something I like doing and I'm used to doing.
Animals give you unconditional love. You are their human and they will be loyal to you and love you as long as they live.
I have a cat named is Weed, but everyone calls him Weedy. At my home we also have two Biewer Yorkshire Terriers whose names are Audrey and Celine. The three of them live happily together and play all the time.
I was raised around dogs and cats. My favorite of course is my Weedy, but before it was Chess, an English sheep dog we used to have. She was beautiful, she had one eye green and brown and the other one was brown. She was playful and caring.
I am from Paraguay. I moved to The Woodlands from Barcelona, Spain. I've been living here for 1 year and 3 months and plan on staying much longer.
I live with my family, which includes my parents and four brothers and sisters. It's sometimes chaotic! My parents are great; caring, loving, patient, and proud of us kids. We learned to love and respect others because of them.
My previous job was dog bathing. In my spare time I like to read, watching TV, and going out for drinks with my friends. I used to play the piano, that was my favorite thing to do but now my passion is writing.