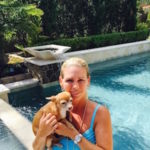 I decided to become a pet sitter mostly because I love animals. This job allows me time with my family and is very fun and rewarding.
My favorite thing about animals is their unconditional love. My 13-year-old dog follows me around to every room in my house and you can just feel his love.
I have been around animals since I was born. Growing up I had cats, Dachshunds, pit bulls, a few mutts from the pound, parakeets, teddy bear hamsters, and goldfish. When I was 20 I got my first Chihuahua and fell in love with the breed. Now, I have three Chihuahuas. Their names are Taz, Princess, and Lucy. I love cuddling on the couch with them.
I am from Houston (Aldine area) but have lived in the Woodlands for 12 years now.
My husband and I have been married 10 years and have two daughters together. Emma is almost 8, and Ally is 4. My husband is from England and has a grown son and daughter that still live there. I am one of 6 children. I actually have a brother that is 21 years younger than me.
My previous job was working for Chicago Bridge and Iron here in the Woodlands. I started out as an administrative assistant and then got promoted to a logistics coordinator position. After having my oldest daughter, I decided to be a stay at home mom.
I grew up in the Aldine area and graduated from Aldine High School.
In my free time I enjoy doing things with my family such as swimming, going on bike rides and walks, traveling, and going to the movies. I also enjoy sitting on the floor and playing with my dogs and giving them cuddles. I also love going to the theatre and decorating.