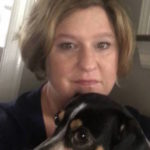 I have always loved animals and needed something that worked with the hectic schedule of my own family. I love how they all have distinct personalities and temperaments. Some, like my own dog, are shy and reserved and others are outgoing and have never met a stranger.
I grew up with a variety of rabbits, cats, dogs and fish and a hamster named Princess Frenchfry. My "heart dog" was a Boston terrier named Trixi. These days, I have a heeler/terrier mix named Millie. We adopted her through MCAS. I would love to have another dog and a cat or two, but my husband is not as much of an animal lover as I am.
I am originally from the Dallas/Ft. Worth area. We moved to the Woodlands in 2001. I have a 16-year-old girl who is a junior at TWHS and two 4th grade twin girls who go to Buckalew.   We are always busy shuffling between theater and choir rehearsals, softball practices, and gymnastics practices. My husband is a civil engineer who commutes into Houston every day and coaches my daughter's softball team. We enjoy cruises and trips to Disney World.
I was born in Ft. Worth, grew up in Dallas, and went to college at UT Austin.
Before becoming a pet sitter, I was the birthday party manager at Kidville here in the Woodlands. In my spare time, I like taking Millie to the dog park, cooking, and decorating.