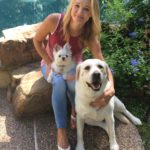 I love being able to work with pets, and helping families feel secure knowing their pets are taken care of when they are gone. I know how important that is.
Pets can fit so perfectly into a person's family and heart, like they were meant to be there. They have unique personalities, and they are so loving in their own way. Also, truthfully, sometimes nothing can be as soothing as having a pet that you love and that loves you back, when you feel sad or stressed. They just comfort like nothing else.
I've had animals around pretty much my whole life. I loved having horses and rabbits when we lived in the country. We always had cats and dogs too. I have always loved cats, any kind, but right now my favorite pet is my dog Molly, a Chihuahua/Maltese mix. She is so loveable and sweet, but also so funny with her little princess personality. Jolie, a lab, is my husband's perfect dog because she is loyal and loves to go on walks with him. We also have Iris, a male cat with a girl's name (oops!).
I grew up in Louisiana and went to LSU. My family and I have been in The Woodlands for three years now. I have 2 daughters, 14 and 12. We are close, the four of us. I think moving around a lot does that.
I love reading, hanging out by the pool, spending time with family. My mother and I take trips together occasionally, and sometimes my siblings and I will do a trip together. We have friends in different states that we've met through moving and we meet up with them on trips also. We are also big theater/music family. The girls are involved in shows and band, and I love to volunteer when I can with those.